Different apps may request different types of permissions - audio recording, access to your Magic Leap 2's cameras, etc.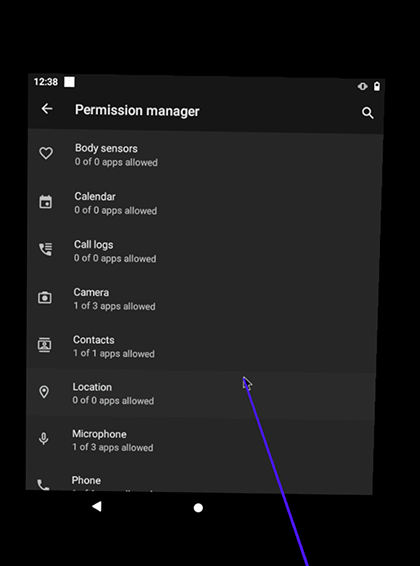 Permissions can be modified from the Settings menu. You can either manage the permissions granted to a specific app, or review different types of permissions and what apps have been granted or denied those permissions. To access the different permissions, go to "Settings" > "Privacy".
Available Permissions
The available App Permissions are based off Google's standard Android permissions. Below are the permissions available on your Magic Leap 2. Note, the available permissions may change over time. Some permissions listed may not actually reflect features available on the device (such as "Call logs", "Phone", or "SMS" permissions):
Body sensors: Get sensor info about your vital signs.
Calendar: Use your default calendar.
Call logs: Access and change your call history.
Camera: Use your camera to take pictures or videos.
Contacts: Access your contacts list.
Location: Gets your device's location. Learn about location settings.
Microphone: Record audio.
Nearby Bluetooth devices: Apps can discover and connect to nearby devices. Learn how to find and set up nearby devices.
Phone: Make and manage phone calls.
Physical activity: Get info about your activity like walking, biking, step count, and more.
SMS: Access incoming and send outgoing text messages.
Storage: Get photos and other files on your phone.
Files and media: Use photos, media, and other files on your phone
Select the permission of the feature you'd like to modify using the trigger on your controller to see which apps have denied or granted access. If you'd like to change a specific's apps permission, select the app (still using the trigger) to toggle permission on/off.