The Display Zone is the three-dimensional area within which virtual content can be viewed through the Headset. Magic Leap 2 has set a default Display Zone which supports viewing virtual content at comfortable ranges by default, while enabling you to adjust the Display Zone for your personal viewing preferences.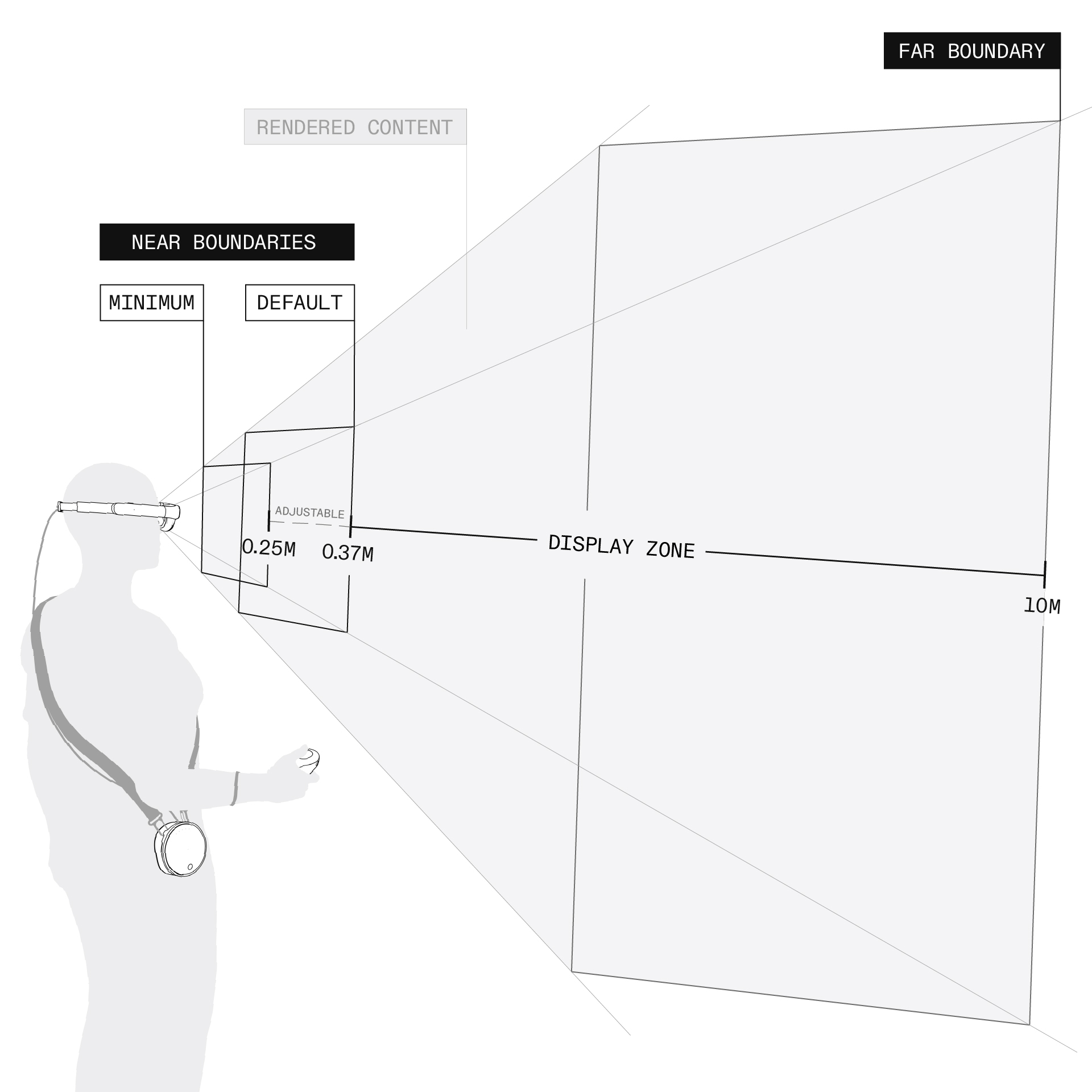 Why Does it Matter?
The near boundary of the Display Zone prevents you from viewing content at close distances that can cause discomfort such as eye strain, blurring, double vision, headache, and nausea. The default Display Zone is based on extensive research conducted by Magic Leap to address visual discomfort and sickness from optical displays, a longstanding challenge in the XR field.
The likelihood and severity of these symptoms vary between people, depending on age, gender, arm length, and other factors. We set the default Display Zone to support comfort for the widest range of people. To learn more about the issue of discomfort from optical displays, read about the Vergence-Accommodation Conflict here.
Our research has shown that the majority of people do not experience discomfort when viewing virtual objects at distances within the default Display Zone. However, we recognize that certain use cases require a larger Display Zone, so the adjustable feature enables you to customize for your viewing preferences and for a wide range of use cases.
Using the Adjustable Setting
With Magic Leap OS 1.4.0 and later, you can adjust the near boundary of the Display Zone from the default of 37 centimeters to as close as 25 centimeters.
The adjustable setting gives you more control to personalize your AR experience. It allows you to view content at closer distances for key use cases that were frequently requested by customers, including:
Viewing digital content up-close to see and edit the fine details on 3D models or remotely rendered graphics in real-time
Using near-field interaction with hand-tracking, especially for people with shorter arms
Working and collaborating in close-proximity environments, tight enterprise environments, or other small spaces
If you're using Magic Leap 2 for the use cases above and you do not experience the visual discomfort described in the previous section, this setting may be useful for you.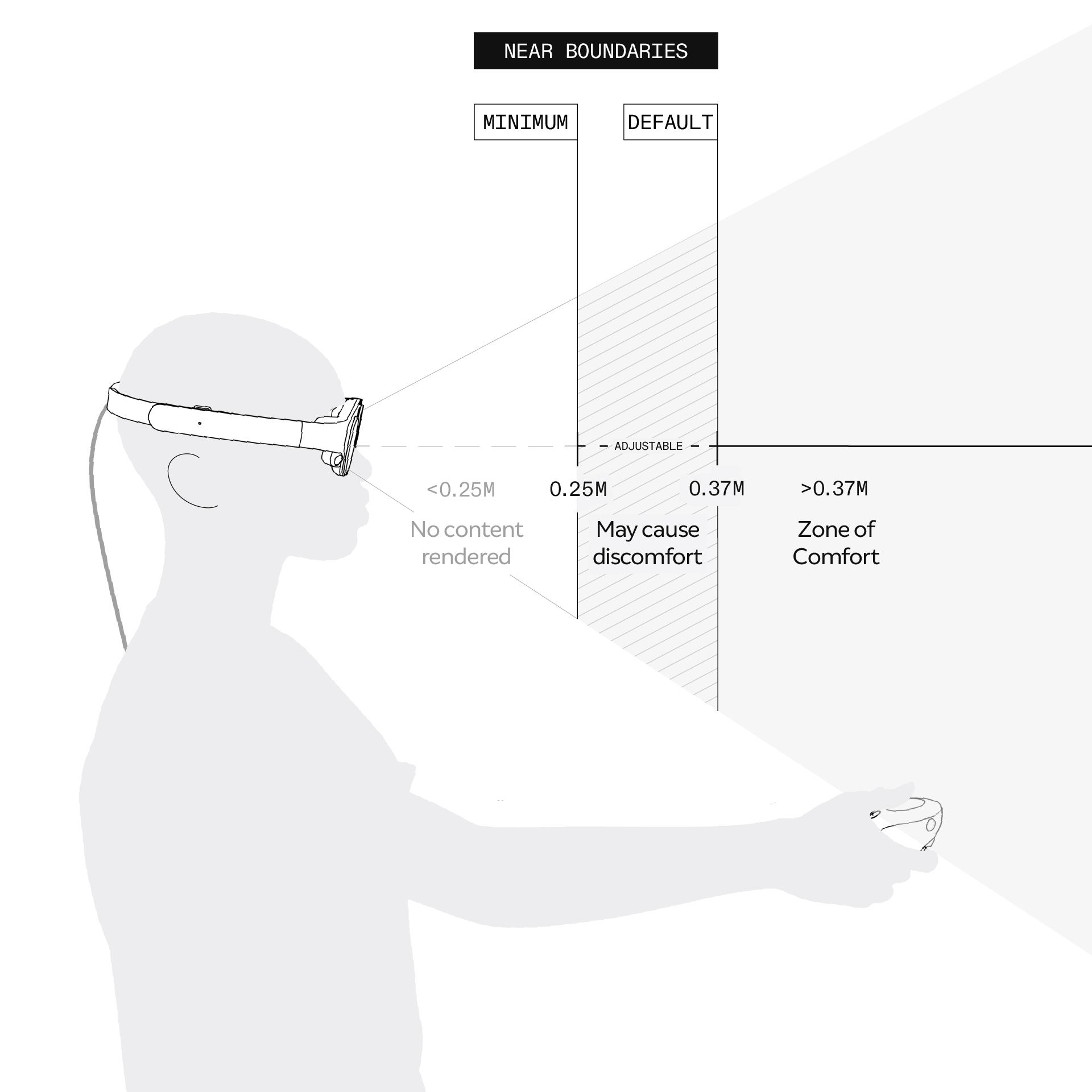 How to Adjust the Display Zone
Only choose a setting closer than the default of 37 cm if you are comfortable with the potential risks: eye strain, eye fatigue, and nausea, among others. It is important to be aware that these symptoms may not be felt immediately, so you should monitor how you are feeling after changing this setting. For some people, the onset of these symptoms may come after sustained use or after using the device. If you feel any of these symptoms or other discomfort at any time, stop using the device immediately and set the boundary back to the default at your earliest convenience.
To adjust the slider, go to "Settings > Display > Advanced > Display Zone (Preview)". Drag the "Near Boundary (Preview)" slider to update the setting.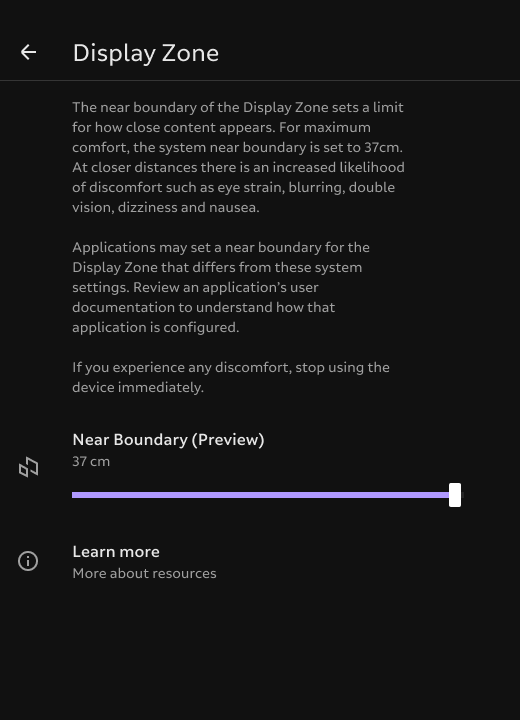 The slider can be adjusted between 25 cm and 37 cm. If you choose a distance that is closer than the default of 37 cm, you will be asked to confirm your choice. You can also select "Do not ask me again" to skip this warning in the future.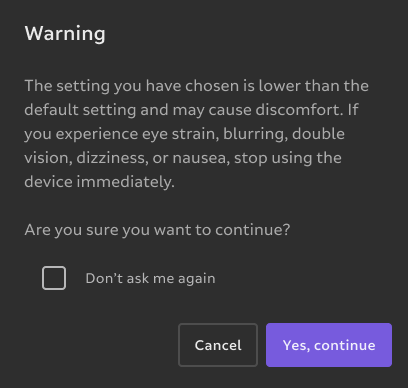 App Settings
All third-party applications are expected to comply with your chosen Display Zone setting. If an application believes that a different setting may be optimal, it is expected to display a dialog requesting that you update the setting (see example below). Always review an application's user documentation to understand how the application is configured. If you experience discomfort with a specific application, contact the application's developer for assistance.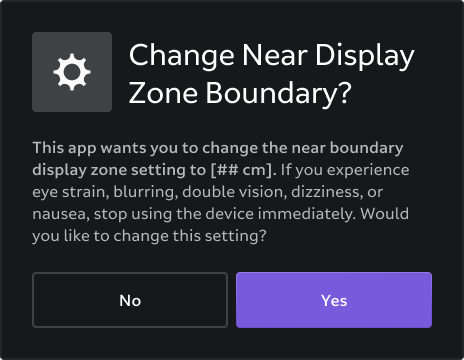 Additional Resources
Visit the Developer Portal to learn more about the Display Zone on Magic Leap 2.