Magic Leap devices can't be worn over glasses. You can either wear contact lenses or purchase a Prescription Insert.
Purchasing Prescription Inserts
Prescription Inserts can be purchased from Frame of Choice. Prescription Inserts have a lead-time of 10-15 business days (about 2-3 weeks).
Redeem a Prescription Inserts Voucher
To redeem the voucher, please visit frameofchoice.com/products/ml2-prescription-insert
Each 12-digit voucher code is unique and can only be redeemed once.
Be sure to enter the full length as given, including the hyphens ("-").
Shipment estimate: 7-10 business days for prescription inserts; 10-14 business days for demo kits.
For questions regarding purchase and redemption, please contact Customer Care. Also refer to Magic Leap's return policy should return be initiated.
For any fulfillment questions, please contact customercare@frameofchoice.com
Supported Prescription Range
Lenses are available in single vision, progressive, and lens kit options.

SINGLE VISION
SPH: -10.0 to +5.0 | CYL: up to -5.0 | Total Power (SPH+CYL): -10.0 to +5.0

PROGRESSIVES
SPH: -10.0 to +5.0 | CYL: up to -5.0 | Total Power (SPH+CYL): -10.0 to +5.0
ADD power up to +4.0



LENS KIT (8 PRE-DETERMINED RX INSERTS)
+1.50, -1.0, -1.5, -2.0, -2.5, -3.0, -4.0, -5.0
Setting Up Your Prescription Inserts
During first-time setup of your Magic Leap 2, you'll be prompted to insert your prescription inserts.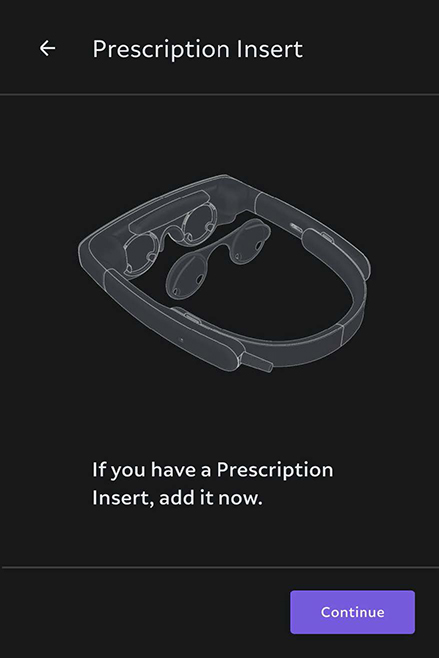 Cleaning Your Prescription Insert Lenses
After removing the Prescription Insert, you can use the cleaning cloth included with your Magic Leap device.